My best friend, Kevin Gregus, and I do a weekly podcast that you might want to check out (you can find that podcast on the right side of this blog or on iTunes - https://itunes.apple.com/us/podcast/kage-and-the-seidkick/id635443276?mt=2). From that podcast sprung this mock draft. For the third consecutive year, we decided that a fun exercise would be to do a mock draft for the NFL where we alternate picks and then discuss our mock draft on the podcast. Here is the third annual edition of the mock draft for your enjoyment and keep your eye out for the connecting podcast next week where we will discuss our mock and how it matched up with the actual draft.
The rules are simple: The Seidkick had the first pick last year, so Kage will take the first pick this year.
In addition to the basic premise, we set guidelines for making our picks. We are picking as we think the teams should and not as we think they will. This is a "if we were the GMs, this is our thinking" mock draft, not a "this is who we think that particular GM will pick" mock draft. That rule is simply because it's more fun to think of what a smart GM would do rather than to try to guess what moronic move the Browns will make this year.
1. Los Angeles (from TEN) – Carson Wentz, QB, North Dakota State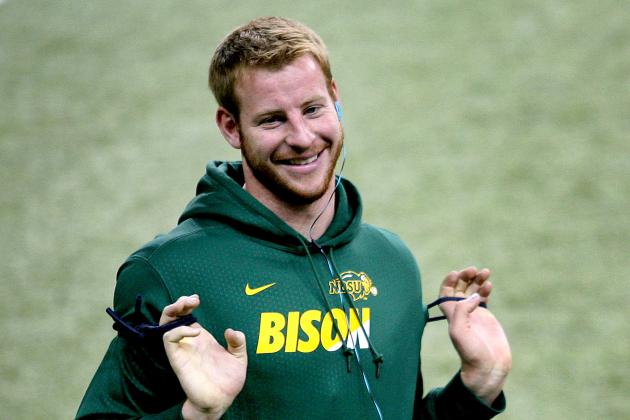 Hollywood's Next Sweetheart?
In what might not be a complete surprise, the LA Rams traded with the Titans to get the #1 overall pick. It makes a ton of sense for Tennessee, especially considering the haul, all draft picks - 2 firsts, 2 seconds and 2 thirds. For the Rams, it's clear they identified a quarterback they wanted and made the move to get him. It's funny that the Rams are involved, as they were on receiving end of the the last big pick swap that netted Washington with RGIII. That trade was seen as a win for the Rams, even without considering the fact that Griffin flamed out to Cleveland. Will the Rams live to regret this as the Redskins did? They hope not, because the pick here is clear and easy - Carson Wentz. Wentz has moved to the top of many QB rankings and is considered the most promising QB prospect for 2016. He's a big body (6'5") with excellent arm strength. The concern is that he has not played the best competition, and while that's true, it didn't stop guys with his build and smaller college experience from winning Super Bowls (see Roethlisberger, Ben from Miami OH and Flacco, Joe from Delaware). There are other units that need addressing with the Rams - the offensive line is one of the worst in the league and there is still no one to really throw to. But QB was the main problem, as Nick Foles ranked as the 32nd QB overall in 2015
, per Pro Football Focus (note: I'll be using this more heavily this year). The Rams can now pair a big, cannon armed-body like Wentz with a bruising breakout star in Todd Gurley to return the Rams offense to its Kurt Warner/Marshall Faulk status.
2. Philadelphia (from CLE) – Jared Goff, QB, Cal
The Eagles are in a mini-rebuild at the moment, trying to undo the damage done in an amazingly short amount of time by Chip Kelly the GM. This offseason alone, they have traded away or cut Mark Sanchez, DeMarco Murray, Byron Maxwell, Kiko Alonso, DeMeco Ryans and Riley Cooper, six members of the Eagles that were solely there due to Chip Kelly (seriously, Riley would have been long gone if not for the protection provided by Kelly). Unfortunately, they can't get back Jeremy Maclin, LeSean McCoy, DeSean Jackson, Evan Mathis or Todd Herremans. That's a lot of lost talent, so while the Eagles are still decently talented, they are now trying to replace a lot of holes where talent evaporated under Kelly.
On the offense, a long-term answer at QB is needed. The wideout corps is crazy deep in solid receivers with no breakout talent (Jordan Matthews is not that and Agholor has yet to prove he can be that), so potentially a talent like Will Fuller or Laquon Treadwell would be a nice pickup. At running back, Zeke Elliott is game-changer who can limit Sproles' involvement on offense to maximize his contribution while also giving Ryan Matthews a break to try to limit the potential for injury. Ronnie Stanley is available at offensive tackle, but he's not displacing Jason Peters or Lane Johnson, so that would be a luxury depth pick.
On defense, the Eagles big struggle was the secondary, where they signed two corners this offseason already, but could use some more help, namely in the form of Jalen Ramsey. The defensive line is a strength for this team and the linebacking corps is young and developing into stars themselves. The secondary is where a star is needed and Ramsey can be just that. So the question is offensive or defensive skill player? While I love Ramsey, the picks dropped to move up to this spot requires a quarterback be drafted here. I DO NOT like drafting air raid quarterbacks this high, but if you are giving up this many picks, you need to get the franchise face and that is at quarterback. Goff is a top-ten pick for me, so reaching a little to second overall is not that devastating and now Doug Pederson has a talented quarterback to build his offense around, even if it will take a while to get used to the pro-style offense.
3. San Diego –Laremy Tunsil, OT, Ole Miss
The Chargers have managed to waste what could have been one of the more productive QB careers in Philip Rivers. The front office has done it's best to strip away any help while missing on building the offensive line. The window for competing with River may be close to shut. So am I saying they should take a QB? No, but they need to do more to protect the last few years of what should be solid QB performance. Major help is needed on both lines. The defense needs serious help with stopping the run and rushing the passer, and the ideal fit is here in DeForest Buckner. On the other side, the Chargers offensive line was the worst in the league per PFF and the only positively graded player was RT Joe Barkdale. There is a simple fix here, and it's the top talent in the draft, Laremy Tunsil. He excelled in his time at Ole Miss, especially as a pass blocker. He's got the physical skills to be a NFL LT and has the athleticism to counter the league's best pass rushers. San Diego is in a good place here- they can instantly improve either line with what is available. But, as tempting as a elite defensive line talent Buckner and Joey Bosa are, that offensive line is so bad and Rivers is so immobile. Tunsil steps in on day one to improve the offensvie protection, and both Rivers and Melvin Gordon are thankful.
4. Dallas – Jalen Ramsey, DB, Florida State
I run so fast to the podium to make the pick, that I'm invited to next year's Combine. JALEN RAMSEY!! Now that I have fan boy'd out, let's discuss this.
First, this is my team, so I'm uniquely qualified to speak to their needs, but also a fan, so take all of my discussion with a grain of salt. Last season, the Cowboys with a healthy Romo looked like actual contenders. Without him, they lost nearly every game, but blew fourth quarter leads in most of them thanks to a strong team keeping it close but the horrific quarterback play from Brandon Weeden, Matt Cassel, and Kellen Moore giving it away. This has a lot of people clamoring for a quarterback with this pick. Unfortunately, I don't believe Jared Goff or Paxton Lynch (the top two remaining QBs) are worth this value. The Cowboys have a chance to add a superstar talent to a team that should be in the playoffs this season. The offense needs some depth at WR and RB, but the addition of Alfred Morris to Darren McFadden and the return of a healthy Dez Bryant means this team should be fine with adding at those positions later in the draft. Defense, on the other hand, still has holes. Dallas has done a good job these past couple years of filling the first string out, where all the players can be considered solid at worst (yes, this includes Mo Claiborne, who took a big step forward last season). The depth behind that first line is where the defense falls apart, meaning the starters get tired in the fourth as they have no one really to rotate with throughout the game. In reality, I truly believe that any and all of the top defensive talent available at 4 overall would be a boon for this defense: Jalen Ramsey, Joey Bosa, and Myles Jack are all upgrades to their area of the field. Zeke Elliott would also be a coup, as a long-term replacement for McFadden and Morris, but as stated earlier, that is a luxury pick. Luxury is not the route, as Jalen Ramsey is the top player on our board and when teamed up with last year's first round pick, Byron Jones, Barry Church and Orlando Scandrick gives the Cowboys a top ten secondary (with Mo Claiborne rocking the 3rd DB slot, where his solid play will play up to expectation, not down, as when he was a starter).
5. Jacksonville – Myles Jack, LB, UCLA
Despite the having the 5th overall pick in the draft, the Jaguars outperformed many expectations in 2015 - and all of these bright spots were on the offense. Blake Bortles was one of the better passers, at least from a yards per game perspective. TJ Yeldon was putting together a solid year before injuries cut it short, and Allen Robinson was developing good chemistry with Bortles. Unfortunately, the defense was a disaster. The Jags lost their first round pick, Dante Fowler, to injury before the year even began. They really couldn't stop anybody, surrendering 28 points per game. The Jags made a splash in free agency by signing Malik Jackson, who helped lead Denver's league best defense. They will get Fowler back, and also signed Tashaun Gipson to help at safety. Pass rush should be drastically improved by these additions, but can teams ever have enough? Linebacker is still an area of need. There are two choices- DE Joey Bosa and LB Myles Jack. Bosa is arguably the top player in the draft, and would allow Jacksonville to deploy Fowler as a roaming DE/LB. Jack provides a very athletic option to attack the QB or provide coverage down field. He does has injury concerns, but he looked to be over them during pro days (he got a jump by leaving UCLA early in the season) and actually saved him some wear and tear. While it seems insane that Bosa falls further than five, Jack just fits better with what the Jags did this offseason. The UCLA LB is the choice to continue the defensive turn-around.
6. Baltimore – DeForest Buckner, DE, Oregon
The Baltimore Ravens, like the Chargers and Cowboys before them, are teams with the foundation for a playoff run that were devastated by injuries last season and could catapult to contention with a strong draft. The question is how best to use their first top ten pick in over a decade? On offense, the Ravens get a free first round pick this season in the return of Breshad Perriman from injury that cost him his entire rookie season. An addition of a running back like Zeke Elliott or along the offensive line could see this offense explode next year with such an infusion of talent around Joe Flacco. On the defense, the 3-4 is still the base for Baltimore and the Ravens need one ILB, one OLB, and one 5-tech DE for upgrades on that front. The secondary also struggled mightily last year, but with Jimmy Smith no longer injured and the addition of Eric Weddle, the secondary can take a backseat as the front will be upgraded first. So the question is do the Ravens add DeForest Buckner, the 5-tech DE that would provide another productive d-lineman to go with the young Timmy Jernigan and Brandon Williams, upgrading the linebackers purely from their ability to keep them clean; or do they go Zeke Elliott, the thunder-and-lightning-rolled-into-one running back, who can start his career supplementing Justin Forsett and providing the offense with a great 1-2 punch running the ball before taking over completely in a few years?
In the end, DeForest Buckner upgrades the defense more than Zeke could the offense and the Ravens can compete immediately with that upgrade on defense. The AFC North just got that much more competitive.
7. San Francisco – Joey Bosa, DE, Ohio State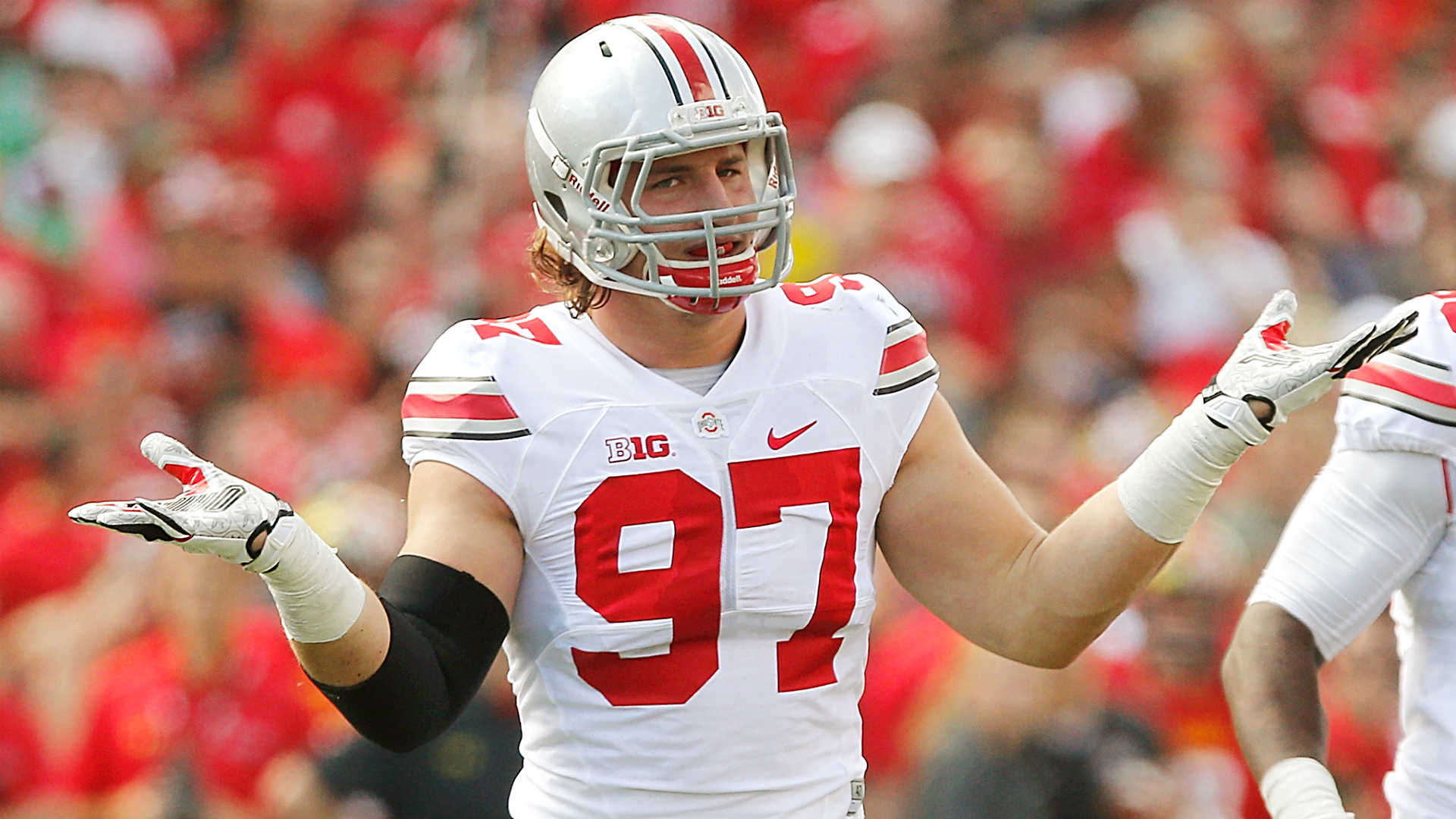 What can I say? I love Molly
I don't think any team had a more disastrous year than the 49ers. Players continued to flood out via retirement, suspension, and free agency. It became more and more clear that Jim Harbaugh was not the source of the problems in the Bay Area, although Michigan fans will be forever grateful to Jed York. It didn't help that they compounded the mistake by hiring one of the dumbest coaches in NFL history, Jim Tomsula. Colin Kaepernick looks to be on his way out of town, coming off a bad year that lacked Harbaugh's watchful eye. The 2016 situation is not much better. Their front seven, once among the deepest in the league, has been whittled down to NaVarro Bowman. There is no depth on the outside. The offense is no rosier, as there are zero skill players after Carlos Hyde and Torrey Smith, and the latter is really just a deep threat. Add in the possible departure of Kaepernick, the team's most successful QB in several years, and it's a mess. The Niners did decide to take a spin at the Chip Kelly wheel, hoping that his style works better on the West Coast than in did in Philadelphia. There are several options that San Fran can go with, and they need a reset at the most important position. While Kelly's welcome quickly wore out with the Eagles, he never really had a healthy QB to run the system he wanted. Ironically, Cal's Jared Goff piloted an air raid offense across the Bay from Santa Clara and fits nicely with what Kelly has adapted to in the NFL. However, Kelly's former team traded up to grab him at #2. Not to worry (actually there's still tons to worry about), there are still great fits here. Since there are so many holes, let's take the top talent available in Joey Bosa. Bosa is an elite pass rusher who also excels in stopping the edge run game and is the first step to repairing a decimated front seven. Niners fans should start their prayer circles now so that Bosa isn't the latest early retiree in San Francisco.
8. Cleveland (from PHI via MIA) –
Jack Conklin, OT, Michigan State
I could write for days on what needs to be fixed in Cleveland, but honestly it most of that will not be solved with just one pick. All of the top players available look like upgrades for Cleveland. My top choice for the Browns was quarterback, but the Browns traded out of quarterback territory. Instead, I'll focus on the lines, where there are a ton of talented individuals available and a need for all of them in Cleveland.
The best players available in my book are Jack Conklin, Ronnie Stanley, and Shaq Lawson. Shaq Lawson can step in and play DE/OLB in that 3-4 and provide some pass rush to a defense that desperately needs it. That option takes a back seat though, as Conklin and Stanley can help an offensive line that needs to be great for a backfield of Robert Griffin III/rookie quarterback drafted later and Isaiah Crowell/Duke Johnson to be effective. While Stanley is probably the better prospect, he's a left tackle and the Browns have one of the best in Joe Thomas. Instead, they go with the guy who looks like an All-Pro at right tackle, someone who will fit perfectly as the bookend to a line anchored by the previously mentioned Joe Thomas.
9. Tampa Bay –
Vernon Hargreaves III, CB, Florida
The Buccaneers really improved on offense last year, posting top 5 numbers in some statistical categories. It should have been no surprise under a coach like...wait, Lovie Smith? Well, that was the thinking behind the firing of Lovie and the promotion of offensive coordinator Dirk Koetter to head coach. Rookie QB Jameis Winston had a solid debut year, coming in second in Offensive ROY to Todd Gurley. The Bucs have good players at the top of each skill position (Mike Evans, Doug Martin, Austin Seferian-Jenkins), but little depth. The offensive line made a huge leap (helped by a mobile QB), but could use some help on the right side. On the defense, the offseason saw some veteran signings at DB and DE, but some youth is needed. Doug Martin just signed a long deal, so Ze
ke Elliott is out. Big Bill Fuller and Laquon Treadwell are tempting at WR, but the needs elsewhere are greater. On the O-Line, Ronnie Stanley is the top option available. The top cornerbacks are all available. And finally, Shaq Lawson is the best option at DE, but I think is a bit of a reach in the top 10. While the Bucs have some veteran guys to fill in in the defensive backfield after this offseason, they need an injection of young talent. The Bucs allowed quarterbacks to complete 70% of their passes last season, and they won't work in a division with Cam Newton, Drew Brees, and Matt Ryan. Vernon Hargreaves is the top CB on the board and is the pick for Tampa. He gives them great instincts and playmaking ability on the outside.
10. New York Giants – Ezekiel Elliott, RB, Ohio State
It's amazing that the 2015 Giants had as good of a record as they did if you look solely at the roster. Seriously, hats off to Tom Coughlin for what he did with this roster last season, which is easily the worst in the NFC East and probably cost him his job. The needs I see are right tackle and right guard, running back, middle linebacker, weakside linebacker, and strong safety...and that's just at starter! Depth-wise, pretty much any selection would help (maybe not DT after the signing of Snacks Harrison). If looking solely at the starter upgrades, safety and right guard fall off as poor value selections at this point. That leaves right tackle (Ronnie Stanley), running back (Zeke Elliott), middle linebacker (Reggie Ragland), and weakside linebacker (Jaylon Smith or Leonard Floyd) as options for this pick. While Jaylon Smith is probably the best talent available, his injury has scared a lot of teams away and his talent isn't far enough ahead of the others to make his injury something to ignore at this point, so he's out. Leonard Floyd is a better fit as a 3-4 rushing linebacker, so probably pass on him as well.
Ronnie Stanley provides protection for Eli Manning and can move Ereck Flowers back to RT, where's he's probably All-Pro, giving two strong tackles to protect the franchise. Zeke Elliott is an immediate upgrade and probably day one starter at running back, replacing Rashad Jennings and Andre Williams. Reggie Ragland is a stud middle linebacker to lead the defense back to its glory days, feeding off the still-strong defensive line and Devon Kennard to force passes to the ball hawks in Janoris Jenkins and Dominique Rodgers-Cromartie. I'd probably rank all three similar in talent and potential but rank the impact of the three on this roster as Zeke, Ragland, then Stanley. While I don't like running backs this high, there's a time and place where you break the mantra, and that's when your roster has no runners to help out a really good passing game, so go with the running back.
11. Chicago – Sheldon Rankins, DT, Louisville
Sheldon is already dreaming of the food in Chicago
Like Seid, I get the chance to make the pick for my team, and boy, I feel some serious pressure here. Only the Browns seem to have more first round misses than the Bears do in my lifetime. Last year's pick, Kevin White, missed the year with a shin fracture. Kyle Fuller has disappointed in the secondary. Shea McClellin was a complete bust and is off to the Patriots. Gabe Carimi basically never played. I won't continue, because I'm making myself sick. These constant misses have left the Bears old and grasping for talent. They spent a lot on free agency in the past two years. While they improved under Captain Snooze John Fox, the defense was in the bottom half and the offense wasn't consistent enough to overcome, which shouldn't be a surprise given Jay Cutler. Gone is longtime Bear Matt Forte, a divorce that was hard to take, but necessary. Kevin White will return and if he lives to his potential, gives Cutler a potent 1-2 at wideout. Jeremy Langford is not Forte (there's a pun somewhere in there), but was serviceable when Forte was out and seemed ready to take a majority of the snaps. The linebacking corps was greatly improved with Danny Travathan and Jarrell Freeman, and addition by subtraction with McClellin. The offensive line is still not in a great place, but did get Bobbie Massie at LT, though he had been a RT for his career.
Given all this, the Bears can go in a few directions. Ezekiel Elliott is a great option here to replace the do-everything back Chicago had in Forte-excellent runner, underrated blocker, and can catch the ball out of the backfield, but he just got taken. Getting a true left tackle like Ronnie Stanley lets Massie move to the right side and tucks Kyle Long in to his natural guard spot. A defensive lineman that can provide a pass rush in the 3-4 and keep the LBs clean would improve the run and pass game. Of the DL remaining, Sheldon Rankins looks like the best fit- high motor, gap filler that can disrupt the run and let the LBs do their job, with the ability to get to the QB himself. After just missing out on Leonard Williams and Aaron Donald in the past two drafts, the Bears get Rankins to be a game-changing force on the 3-4 defensive line.
12. New Orleans – Shaq Lawson, DE, Clemson
The Saints need help on defense BAD. While I'm tempted to grab Ronnie Stanley to help bolster the protection of Drew Brees for his final few seasons, it would be a complete waste of Brees if the defense can't stop anybody. I mean, New Orleans needs an upgrade at defensive tackle, defensive end, cornerback and free safety. The linebackers aren't too shabby, but are wasted behind that line and the corners can be good when not left out to dry for too long, so that points me to defensive tackle and defensive end for the Saints, and boy, are there plenty in this draft. A'Shawn Robinson, Vernon Butler, Andrew Billings, Jarran Reed, and Kenny Clark are all available at defensive tackle and look like first round talents. Shaq Lawson, Emmanuel Ogbah, Kevin Dodd, Robert Nkemdiche, and Noah Spence all are first round talents available at defensive end. That is ten (10!!!) options for the Saints, meaning they get to pick the best of the bunch to fit their system across from or next to Cameron Jordan. The defensive tackles don't seem like the best fits for this Saints team, even though this is the position I thought needed most upgrading. Instead, we go to DE where we have two athletic projects (Ogbah and Spence), two Clemson standouts (Lawson and Dodd), and one supposed headcase (Nkemdiche). The Saints are trying to win while Brees is still playing, so the projects are no-gos and the headcase is too risky for that very same reason. Instead, it's a choice between Dodd and Lawson (both of whom I like a lot). In the end, the higher ceiling seems to be with Lawson, so Shaq Lawson is the choice to help Cam Jordan rush the great quarterbacks in the NFC South.
13. Miami (from PHI) – Ronnie Stanley, OT, Notre Dame
The Dolphins had a fairly busy offseason, and the result was clear- Miami is taking all players a few years removed from their best seasons. They got Kiko Alonso and Byron Maxwell from Philly, and signed Mario Williams from Buffalo. They did lose the up-and-coming DE Olivier Vernon and RB Lamar Miller, both of whom priced themselves out of South Beach. Miami had two units that struggled mightily in 2015, the offensive line (31st overall) and defensive backs (25th overall). They also do need a replacement for Miller, who had a very nice year, but the only 1st round talent at RB is Zeke Elliott and there are options later (Derrick Henry, Devontae Booker, Kenneth Dixon, etc.). At CB, the best options are Mackensie Alexander, William Jackson III and Eli Apple. All are good options, with Alexander taking the slight edge for the Dolphins. However, they have made an investment into Ryan Tannehill and will have a weak or rookie RB situation. Plus, cornerback is a deep position in this draft. The offensive line was so bad that it needs addressing in the first round. It hasn't been a point of strength for the Dolphins' front office, but it can't really deter them now. Ronnie Stanley is the best option on the line at this point, and they insert an athletic pass blocker who has the frame to further develop.
14. Oakland – Reggie Ragland, ILB, Alabama
Ladies and gentlemen, the Raiders are back! No longer can you consider the Silver and Black a laughingstock of the league, as they competed last year behind a sneaky good defense and brilliant up-and-coming offense. On offense, the starters can't really be upgraded at this pick after the signing of Kelechi Osemele this offseason, making any pick a depth pick to protect against injury to the heavy-lifters like Latavius Murray, Amari Cooper, Derek Carr or anywhere along that offensive front. As a result, we save depth picks for later and go to the defensive side of the ball for an impact player that might be able to push Oakland towards legitimate playoff contender. The defense was ranked 11th in the league last year in total defense, so the areas in need of improvement for Oakland aren't that numerous. They need a safety next to Reggie Nelson, inside linebacker and depth along the defensive front. As stated earlier, depth is not a goal in the first, so the Raiders are looking either safety or linebacker. If a safety goes in the first round this year, I'll be surprised, as the class is very weak at safety, so we turn to linebacker instead. The second tier of linebackers consists of Reggie Ragland, Leonard Floyd, Jaylon Smith, and Darron Lee, all with pros and cons. Leonard Floyd is a nice fit for the Raiders, but he's not an upgrade over Khalil Mack or Bruce Irvin, so not the right choice there. Darron Lee is a decent choice, but he's the third best of the remaining, so we'll pass on him.
That leaves two, and boy, is it a tough choice. Honestly, prior to injury, Jaylon Smith was above Myles Jack for me. Now, I'm torn, as I love Jaylon but without my own medical team, I'm stuck with everyone else's take. The reports are not encouraging, as most reports have his knee and ankle suffering extensive nerve damage on top of the torn ligaments, and that he will miss all of the 2016 season as well. Do you risk grabbing a top 5 linebacker who won't play for you until September 2017, a full 20 months after his last time in live action? While the upside is tremendous, the downside is as well, and if I'm the Raiders, I can't risk wasting a first round pick when our team is finally moving past the stigma of a team that can't get out of its own way. Instead, we grab the solid ILB who will be made better by the rest of his front seven in Reggie Ragland.
15. Tennessee (from LA) – Laquon Treadwell, WR, Ole Miss
The Titans looked to have found something in Marcus Mariota. The rookie QB out of Oregon put up respectable numbers on a bad team that lacked skill players and protection up front. While the receiver corps is still weak (Delanie Walker is a solid TE), Tennessee added DeMarco Murray via trade to give Mariota at least one offensive weapon. If they would have kept the #1 pick, they would likely have grabbed Laremy Tunsil to shore up a weak offensive line and given the Titans a great tackle to pair with Taylor Lewan. Now, the top offensive lineman are off the board. Their other big needs are on the outside at wide receiver and cornerback. There are great options at both. Laquon Treadwell is the top WR in the class and has an NFL frame to instantly become the Titans' best receiver. William Jackson III is a excellent cover corner and plays an aggressive style that is popular in today's NFL. Yes, Tennessee needs offensive linemen, but they now have a ton of higher round picks to address that. They can take an impact skill player here, while addressing O-line and CB later. Treadwell is the pick to give Mariota the #1 wideout he needs.
16. Detroit – Jarran Reed, DT, Alabama
Well, the Lions are an enigma. At times, they look like a scary team that can beat most other teams; at others, they look like the same team that went 0-16 a few years back. Now with the retirement of Megatron as well as the departures the past two seasons of a large part of that defense, this Lions team is looking like they will waste the next three to four years of Matt Stafford's prime in a rebuild if they don't nail this draft.
When looking at needs for the Lions, my top options are right tackle, center, star wide receiver, defensive tackle, middle linebacker, cornerback and strong safety. That is a lot of areas that need help for a team in the middle of the first round. The top five options available at those positions on my board are Jaylon Smith, Darron Lee, Eli Apple, Jarran Reed, and A'Shawn Robinson. There's a definite theme there, as the top remaining help on my board for the Lions all line up on defense. I'll pass on Smith and Lee again, and look instead at cornerback or defensive tackle. Eli Apple would provide an upgrade across from Darius Slay and help out a secondary that has to face Jay Cutler, Aaron Rodgers and Teddy Bridgewater twice each. While the secondary needs help, the defense looked worse after losing Suh and Fairley than many thought it would and it only makes sense to fix that hole with a first round pick once more. A'Shawn Robinson is probably better than Jarran Reed but he is redundant on the roster due to Haloti Ngata, while Jarran Reed compliments. As a result, we go with the other Tide DT.
17. Atlanta – Corey Coleman, WR, Baylor
The Falcons improved several units last year and turned that into a more successful 2015, though they missed the playoffs once again. They had a breakout RB performance from Devonta Freeman and improved defensive play from the much-maligned front seven. However, the Falcons have to face two of the leagues better QBs in Cam Newton and Drew Brees, and their still-struggling pass rush was not able to slow them down. The WR corps falls off quickly behind Julio Jones, while the offensive line failed to consistently keep Matt Ryan's pocket clean. Atlanta made two nice moves to improve these units by signing C Alex Mack and DE Derrick Shelby. Mack helps a O-line that's developing quickly, while Shelby joins Vic Beasley to improve the pass rush. Sanu is not the #2 receiver that the Falcons paid him to be, so help is needed there. There are some nice choices here, including Corey Coleman, Josh Doctson, Will Fuller, and Sterling Shepard. The defense could also use another LB, either inside or outside, to add to the pass rush or defend the run. These LBs have been highlighted previously - Leonard Floyd, Jaylon Smith, and Darron Lee. Of these, Leonard Floyd is the best fit for the Falcons system and the best pass rushing option at linebacker. However, I think Matt Ryan needs another weapon opposite of Julio Jones with the departure of Roddy White, and it's not Sanu. The Falcons got a good pass rusher in Shelby, so they can afford to go offense on this pick. Jones is a do-everything, top 5 NFL WR, so you can match anything with him. Fuller is a great downfield burner, but this is too high to go for that in my opinion. Doctson impressed with his ability to make very difficult catches, but is coming off an injury and need some development. I like the Biletnikoff winner Coleman here, who, while undersized, is very athletic and attacks the ball. This gives the Falcons the ability to move Sanu to the #3 spot and run Coleman out wide or in the slot.
18. Indianapolis – Andrew Billings, NT, Baylor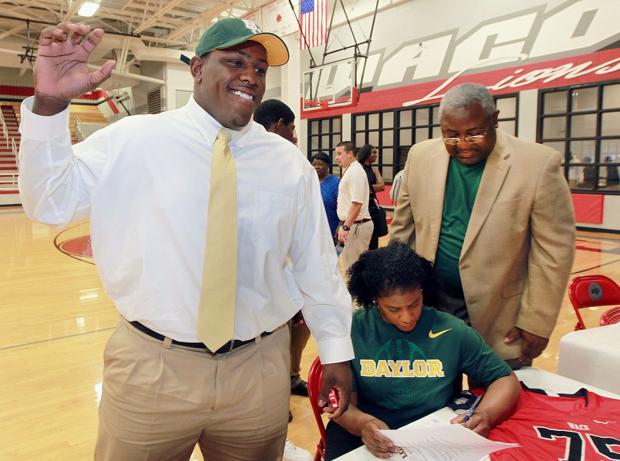 Mr. Billings, party of three, your table is ready. Welcome to St. Elmo!
The Indianapolis Colts are a tough nut to crack, as they were considered potential Super Bowl contenders prior to last season, and fell apart, in large part due to Andrew Luck getting injured. "Let's upgrade his protection!" doesn't really work here though, as the top available offensive lineman is Taylor Decker, a tackle. The Colts need upgrades at right guard and center, both of which have nothing worth the value of a mid-first round pick in this draft. I'd rather trade down and draft Ryan Kelly later in the first to take over at center for Mr. Luck's offense, but that's not an option here. Instead, we hold off on fixing that offensive line (which was middling, but not terrible last year despite the narrative) until the second and third rounds and look instead to the defensive side of the ball. The Colts continue to struggle in stopping the run and pressuring the quarterback, areas that will be fixed in the front seven, though their only significant offseason move was to bring in Patrick Robinson to the secondary. Honestly, Arthur Jones is the only player in that front seven that isn't past their prime or just plain not good. So the Colts could use a NT, 5 tech DE, rush OLB, and ILB. Luckily my top players available fit that, in Andrew Billings, A'Shawn Robinson, Jaylon Smith, Darron Lee, and Leonard Floyd. While my first thought was Leonard Floyd as the perfect short-term compliment and long-term replacement for Trent Cole and Robert Mathis, after some thought, I decided against it. The best way to help out this team is to provide a big body to eat blockers and help in the run, and that is where Andrew Billings excels. The big Baylor Bear will work well next to Arthur Jones and provide the Colts with a strong front as a start towards a better defense in the future.
19. Buffalo – Leonard Floyd, OLB, Georgia
The Bills are a curious team. They have young talent at multiple positions, but cannot seem to take the next step. They had one of the best defensive fronts in 2014, got Rex Ryan at head coach, and then proceeded to take steps backwards. The offensive improved behind a much improved offensive line anchored by Richie Incognito. This line could be improved, especially inside, and they could add a #2 receiver opposite Sammy Watkins, but there were losses on a defense that regressed in 2015 that need to be addressed. A huge part of the backslide was a terrible season from former #1 overall pick Mario Williams, a DE who is now on the Dolphins. Pass rush was a huge issue for Buffalo and there is a simple option here that fits perfectly in Ryan's 3-4 scheme. That would be Leonard Floyd, the outside LB from Georgia. Floyd is an athletic freak who is undersized, but still one of the top guys at edge rusher in this draft. The pick of Floyd gives the Bills a true 3-4 OLB, something they haven't had in some time, and now they add a potential sack artist to an otherwise talented defensive front.
20. New York Jets – Taylor Decker, OT, Ohio State
The Jets are an interesting case as they were very competitive last season behind the arm of Ryan Fitzpatrick and Todd Bowles' defense doing well in their first season in his system. Now with another year under them, you would think they are ready to compete for bigger and better things, but maybe not. Fitzpatrick has not resigned due to an impasse in negotiations between himself and the front office, leaving the Jets hopes this next season in the hands of Geno Smith. As a result, one decision would decide how I would go forward with this pick.
If Ryan Fitzpatrick re-signs with the Jets, the offense is set despite a weak right tackle situation, though Fitzpatrick can make up for that (he did so last season). Instead, with Fitzy, the Jets turn to the defensive side of the ball and get the pass rusher at OLB to help Todd Bowles get his defense turnt up in Noah Spence, a very talented OLB with a sordid past of ecstasy addiction that he seems to have overcome.
If Ryan Fitzpatrick doesn't re-sign, the Jets are relying on Geno Smith and the best play would be to put him in the best situation possible to succeed. That would require an upgrade at RT and the selection of Taylor Decker would help that cause, as he can takeover at RT immediately or if he looks good enough in training camp, he can take over at LT and move the older Ryan Clady to RT. Either way, Smith has a strong offensive line to protect him; the skill of Matt Forte, Brandon Marshall, and Eric Decker to score points with; and a defense that was good enough last year while still learning a system that should take a step further forward this year with a year of experience under their belts.
My bet is on Fitzpatrick going elsewhere.
21. Washington – Chris Jones, DT, Mississippi State
Last year's Washington team topped what may have been the worst division in the NFL (Ed: Oh c'mon! Low blow!) with the help from a QB that they drafted a few years ago. Of course, this was not Robert Griffin III, but was instead Kirk Cousins. RGIII was unceremoniously released after being abused by Washington's coaches and front office and signed with Cleveland, while Cousins signed an extension to stay in DC. Also gone are Alfred Morris, Terrence Knighton, and Jason Hatcher as Washington deals with the cap issues brought on by a perennially awful front office. They are set on offensive line and have some targets for Cousins. There is a gaping hole left by Morris at RB that will need to be filled in later rounds, since Elliott was taken earlier. The defense rode the strength of the defensive front, which lost some key pieces, so that will need to be addressed. They also need help up the middle at MLB and safety. I don't like any of the defensive backs or middle LBs here, so Washington will use this pick to reload on the defensive line. The best man available is Chris Jones, a run stuffer with the ability to rush the passer. He relies on his immense power to collapse the pocket and control the point of attack. This move gives Washington a needed piece and keeps their options open to target a running back or defensive back, both which have plenty of options, in the later rounds.
22. Houston – Josh Doctson, WR, TCU
Houston is an interesting case, as here is a team, similar to Washington, that won a terrible division (I'd argue worse than the NFC East), made it into the playoffs and was promptly throttled 30-0. The beating was so thorough that Houston immediately blew up the offense, letting go their starting left guard, center, running back and quarterback. They replaced the guard (in a probable upgrade from Brandon Brooks to Jeff Allen), the running back (definite upgrade from Arian Foster to Lamar Miller), and quarterback (who knows? Brian Hoyer to Brock Osweiler could go either way). The offense could still use another interior lineman and weapons in the passing game, as their only weapons at this point are DeAndre Hopkins (a great one though) and Lamar Miller. There is no tight end to attack the seams, no slot wide receiver to take advantage underneath, no wide receiver opposite Hopkins to take advantage of one-on-ones. Jaelen Strong could be that last one in time, but they need more help now. Honestly, the defense is good enough at this point, that I'd rather focus on the offense than address the one hole (DE opposite JJ Watt) on defense that could easily be addressed at any time in the second through fourth rounds.
So the question is do we grab a wide receiver, tight end, guard or center? There is no tight end worth a first round pick this season so that is off the table, leaving the other three. There is a clear top option at both offensive line spots and both offer late first round value, in Cody Whitehair at guard and Ryan Kelly at center. Both have graded out well during the draft process and project to start or at least push to start from day one on the Texans. On the outside, wide receiver has great options to compliment DeAndre Hopkins, in Josh Doctson of TCU and Sterling Shepherd of Oklahoma. Both of those wide receivers should start from day one and provide a great influx of firepower to an offense needing it to help Osweiler out from day one. If I were to grade the players on best available, I'd rank them Doctson, Kelly, Whitehair, Shepherd. On need, Shepherd, Kelly, Doctson, Whitehair. So, the decision is between Doctson and Kelly, and while I love getting the best center available (look at what Travis Frederick has done for Dallas), I will side with best available and go with Josh Doctson opposite DeAndre Hopkins.
23. Minnesota – Sterling Shepard, WR, Oklahoma
Wait? Minneapolis isn't in Hawai'i?!
*sobs while being handed a parka*
The Minnesota Vikings were one 27-yard field goal from facing the eventual NFC Champion Panthers in the divisional round of the playoffs. Still, 2015 was a good year for the Vikings. Teddy Bridgewater continued to develop, the defense put together a great performance (5th in points per game, 4th in 3rd down defense), and Adrian Peterson continued to do his thing. The offensive line wasn't in the top tier, but it didn't cause major problems and was upgraded with some depth signings in the offseason. Of course, they could always afford to get younger and add an interior lineman to give an aging Peterson more life. Cody Whitehair could help here. What Minnesota really lacks is productivity at the receiver position. Rookie Stefon Diggs was the team's top receiver last year, and they lost Mike Wallace in the offseason. Kyle Rudolph is a decent tight end, but is not a playmaker or terror like a Rob Gronkowski. So, the priority here is to get Bridgewater a weapon to take some pressure off his and Peterson's legs. The best options available are Sterling Shepard, Michael Thomas, and Will Fuller, as the draft has seen a bit of a run on WR (Treadwell, Coleman, and Doctson are all taken). Shepard is a good route runner and can go get the ball downfield, but lacks ideal size as a wideout. Thomas had a knack for the big play, even with the mediocre play from Ohio State QBs in 2015, and plenty of physical tools, but is not a polished route runner. Fuller is a burner who can torch teams downfield, but may be a bit of a one-trick pony, though it is a valuable trick at that. Bridgewater has made his game by completing short to medium range passes with very good accuracy, but the deep ball hasn't been accurate. Whether this is lack of targets (he did have Mike Wallace last year) or just poor arm strength, I believe he is best served with a receiver who can consistently get open and execute solid routes. Sterling Shepard is the pick.
24. Cincinnati – Will Fuller, WR, Notre Dame
The Cincinnati Bengals are no longer the Bungles, having made the playoffs every year of Andy Dalton's career. Yet, they have never won a playoff game in his career and officially reached a new low last postseason, turning towards dirty hits at the end of a well-fought battle between themselves and bitter rivals Pittsburgh. The question at this point is what to do? The team has a ton of talent but it's also filled with players who combust under pressure, turning towards hurting players rather than trying to win a game. Honestly, if I were the Bengals, I would have a more stringent requirement in this year's draft than just best talent available, as the culture in the locker room needs to change. They need to find a leader on the team, someone who can command a little more respect than Dalton or AJ Green. A player like Burfict would have been put in his place on teams with dominant leaders like the Patriots with Tom Brady, Colts with Peyton Manning or the Ravens with Ray Lewis. Those teams won titles because the players put the team first, ahead of their own frustrations or self-interest.
That being said, I have no insight on the players in this draft, as the personal side and interviews are shrouded in vagueness and clichés: "Player A is uncoachable", "Player B had nothing but great interviews". These mean nothing, so instead we go with what we do know. We know the Bengals need help on the defensive line and at wide receiver. Both are deep in this draft for first round talent, so the Bengals will get what they need without reaching. While I'm tempted to grab A'Shawn Robinson as a Domata Peko replacement or Kevin Dodd or Emmanuel Ogbah at end to replace Michael Johnson, I'm going to go wide receiver, a position that is now AJ Green and then nothing (no offense to the LaFell or Tate families).
My final three first round talents at WR are Sterling Shepard, Will Fuller, and Michael Thomas. If Hue Jackson was still the offensive coordinator, I would give him Shepard and watch him play. Unfortunately, Hue's gone and Shepard was just taken, so I'm going to go more traditional and decide between Will Fuller and Michael Thomas. While Thomas is bigger, the Bengals have AJ Green for that duty, so they can afford to go for the more explosive, but slighter build of Will Fuller.
25. Pittsburgh – William Jackson III, CB, Houston
These are not your daddy's Steelers. The current edition features a top-5 QB, a number of receiving targets, and a very productive tandem of running backs. Add in the return of Maurkice Pouncey and the Steelers are all but set on offense. And what's this? The defense needs some upgrades? The vaunted 3-4 system of Dick LeBeau is now helmed by Keith Butler, who has gone for more of a balanced attack. This isn't to say the defense is terrible - a "down year" for Pittsburgh still had them third in the NFL in sacks, fifth in rushing defense and 11th in scoring defense. This is a young defense, and will only grow more consistent under the watch of Mike Tomlin. The biggest area of concern is the defensive secondary. Only William Gay graded as an effective member last year, and they didn't do much in the offseason besides retaining Gay. Luckily, there are some good options still available at this point in the draft. Of the guys remaining, William Jackson III, Mackenzie Alexander, Eli Apple, all CBs, and Karl Joseph, a safety, are the guys I like best. Jackson is an aggressive, physical corner who excels in coverage. Alexander was relied on heavily at Clemson, but is quick and also does well in coverage. Apple is good against the run (hi, Big Ten) and can keep up with guys, but can find himself being outmuscled. Joseph is small, but plays larger than his size and moves well from the backfield. It's a toss-up between Jackson and Joseph, and I'm going with the big, physical corner who has a good history of ball-hawking in college. William Jackson III is the Steeler's first step towards improving the pass defense.
26. Seattle – Ryan Kelly, C, Alabama
We are in Super Bowl contender area now, as the needs of teams get smaller and smaller. The Seahawks have three needs: running back depth (they have Thomas Rawls and that's it), outside linebacker (KJ Wright and Bobby Wagner are great, but they need a third linebacker to go with them), and the ENTIRE offensive line. That's right, I said it. The entire offensive line needs to be upgraded. It's amazing! I was blown away by it, but it's true. With the loss of Russell Okung this offseason, the Seahawks officially have one of the worst offensive lines I've seen during this exercise. It makes sense, as last season, Russell Wilson, time and again in losses, spent the entire game evading pressure. Now the Seahawks do have the luxury of Russell Wilson to evade pressure, but that means nothing when the entire offensive line is prone to a breakdown at any moment. So this is an easy pick: best offensive lineman available. Top tackle: Germain Ifedi. Top guard: Cody Whitehair. Top center: Ryan Kelly. Ifedi is at his best as a right tackle in the NFL and could move inside to guard, so he has value in the fact that he could be used at multiple positions. Still, Whitehair was a tackle in college who could play multiple positions as well, so he wins as he is the better of the two anyways. The question is do we go with Whitehair or Kelly? I prefer Kelly, but really Patrick Lewis is the only player on the Seahawks line that doesn't need an immediate upgrade (in the long-term, yes, but he held his own last season), so Whitehair with Lewis is a decent start to a line. Still, I have a rule, go with who you prefer when fit is mediocre, go with fit when fit is terrible. The fit isn't terrible and Kelly is the preference over Whitehair. It's still an upgrade, with Kelly as the potential anchor for years to come on that line.
27. Green Bay - A'Shawn Robinson, DT, Alabama
The Packers are no longer alone atop the NFC North, as they were unseated by the Vikings in 2015. Despite having one of the best quarterbacks in the league, the passing offense struggled after the loss of Jordy Nelson. Randall Cobb couldn't quite handle the #1 spot, especially without a competent piece opposite him; Eddie Lacy's weight ballooned and he couldn't follow up on an excellent rookie season; and they still can't find a TE who can catch the ball with consistency. The defense was good, but had its struggles against the run. However, this is still a team that went to the playoffs, and there aren't many holes. Nelson will be back this year after the knee injury, reports have Lacy reporting to workouts as absolutely shredded, and they still have Aaron Rodgers. They didn't make many moves in free agency, losing B.J. Raji to retirement and Casey Heyward to free agency. They have plenty of talented depth at corner to replace Heyward, but they do need help replacing Raji and improving a defensive line that had issues against the run. They could also use some depth at middle LB and of course, an answer at TE. The top remaining choices all come with some risk. Jaylon Smith would look great in the middle of that defense, but the injury concerns are real. Robert Nkemdiche has a ton of physical tools and was once a top-5 projected pick, but character issues have driven his draft stock down. A'Shawn Robinson stuffed the run at Alabama, but failed to create much pass rush and played with a ton of talent around him. That said, Robinson is probably the best fit at a position of need and has a track record of being a force in stopping the run. The Packers have pass rushers elsewhere (Matthews, Peppers, etc.) and if Robinson can keep them clean, NFC North offenses could be in for a long season.
28. Kansas City – Robert Nkemdiche, DE, Ole Miss
Hotel room windows and pet panthers, y'all!
The Chiefs were great last season and dominated their opening round playoff game against the Texans. Unfortunately they couldn't beat the Patriots and now have a slight rebuild to do after an offseason that saw the Chiefs lose both starting guards, a starting defensive end, a starting cornerback, and two starting safeties (Husain Abdullah and his injury replacement, Tyvon Branch). That to go with an already weak receiving corps and a need for a second inside linebacker. Ummm, so that's seven starters out of 22 that could be upgraded with this pick. The Chiefs might be falling back to Earth this season if they don't nail this draft AND have some depth players step up (I'm looking at you, Jah Reid). So the best available players at those positions for me are Cody Whitehair (guard), Michael Thomas (WR), Robert Nkemdiche (DE), Eli Apple (CB), Jaylon Smith (ILB), and Keanu Neal (S). All of those players seem like good picks to me for the Chiefs, so it's fall back on your mantras time. Build from the line/front seven out? Check, cutting Thomas, Apple and Neal from consideration. Which side has more needs? Defense is in need of four starters, offense three, so good bye Cody Whitehair. Don't take a shot on an injured guy when you have others you like just as much? Good bye Jaylon. So that leaves Robert Nkemdiche. The question is this: how confident am I that I won't be fired? If I'm confident, I take the shot on Nkemdiche. The kid is dominant, potentially top-five-at-his-position dominant. Jaylon Smith is great too, but he has as many questions about his injury and recovery as Nkemdiche has about his off-the-field issues and his brother. Smith is a not-get-you-fired bust. Nkemdiche is a media-blitz-got-you-fired bust. I'm not afraid of getting fired in this exercise...
29. Arizona – Noah Spence, OLB/DE, Eastern Kentucky
The Cardinals had an excellent 2015, with both offense and defense posting top-5 performances. Carson Palmer was probably the best pure passer last year (I'd say QB overall, but Cam Newton is something special) and had weapons pop up all over the offense. On defense, the secondary was anchored by Tyrann Mathieu and Patrick Peterson. Any of the losses they had in the offseason (Dwight Freeney, Rashad Johnson) were replaced effectively by the front office. They also dealt G Jonathan Cooper for DE Chandler Jones to help improve the pass rush. Their offensive line, which now bolsters two of the best guards in the league, really only needs a center. They could use some more pass rush coming from the outside, and also could improve on secondary depth. Ryan Kelly would have been a perfect fit here, but he was taken by division rival Seattle. At safety, both Vonn Bell and Karl Joseph are available. Noah Spence is available as a edge guy, as are Kevin Dodd and Shilique Calhoun. Of these, I like Noah Spence, as he is probably the most talented. While he was dismissed from Ohio State (yeah, it was THAT bad) for drug issues, it appears that he has matured during his time at Eastern Kentucky. He is the best all-around option here while still providing good pass rushing ability. The Cardinals have succeeded in the past with a character-issues guy like Mathieu, and the potential dynamic talent is too good to pass up. Arizona is facing a shrinking window of competitiveness (aka Palmer's health and longevity), but they only need a few tweaks to reach Super Bowl LI.
30. Carolina – Jason Spriggs, OT, Indiana
The Panthers have three issues to address in this draft: add more talent to the receiving corps, upgrade strong safety, and replace BOTH offensive tackles. Seriously, the Super Bowl showed what occurs when Michael Oher and Mike Remmers are relied upon against talented pass rushers: Cam Newton gets hit...A LOT. The best receiver available, Michael Thomas, is a clone to Kelvin Benjamin and Devin Funchess, so that redundancy makes it easier to wait on wideout. Vonn Bell and Karl Joseph are the options to put next to Kurt Coleman and honestly, I love both of them in that defense, but I just can't imagine leaving the face of the franchise as unprotected as he looked in that Super Bowl. I'd have nightmares of Cam getting hurt and the Panthers returning to mediocrity (total offense to Derek Anderson on that one). The best way to win is to keep Cam on the field, so we look at offensive line. The two best tackles available are Germain Ifedi and Jason Spriggs. Ifedi is probably the better of the two, but he doesn't look like he can leave the right side of the line. Spriggs will probably need to start his career as a right tackle, but should be able to move to left tackle in a year or two. While I would rather grab Ifedi, the Panthers need to think long-term and protecting Cam's blind side. Spriggs probably cannot match Ifedi on the right side, but his ability to move to left tackle and provide potential All-Pro play there makes him a better selection in my book for Cam's Panthers.
31. Denver – Kevin Dodd, DE, Clemson
There was no team more ravaged in free agency than the Denver Broncos. The good news is that the defending Super Bowl champs were loaded at almost every position, and they just couldn't keep everyone around. Gone are DT Malik Jackson, QB Brock Osweiler, G Evan Mathis, LB Danny Trevathan, DT Antonio Smith, QB Peyton Manning (retired), TE Owen Daniels (cut), RB Ronnie Hillman, and S David Bruton. The offensive line is still intact, but there is one major thing missing - QB. Manning was pretty awful in 2015, and it was through an absolutely dominant defense that they got to the Super Bowl and shut down the Panthers. In a surprising move, however, they lost backup Brock Osweiler to an absurdly large contract from Houston. The losses on defense also mean that the defense won't repeat it's 2015 performance, though it will still one of the better ones in the league. As of now, Mark Sanchez will be the man throwing to Demaryrius Thomas and Emmanuel Sanders. You can bet that they will take a QB at some point in the draft, but I can't support taking Paxton Lynch, the #3 QB in the draft, at this spot. The Broncos need to replace the lost pass rush of Jackson and Smith, along with the LB play of Trevatan. The could also use a TE to give whatever QB starts another target. I'm tempted to go for Hunter Harvey here to fill that TE spot, but there are some big holes at defensive end following the purge. The top options have been highlighted - Kevin Dodd, Shilique Calhoun, and Emmanuel Ogbah. Calhoun needs work on his non-pass rush game, and Ogbah is himself still developing. Kevin Dodd is the pick to fill in day one. Dodd improved all last season at Clemson alongside Shaq Lawson and showcased his quickness and good instincts. I'll be very curious to see who Denver selects to fill what may be the most gaping hole on a competitive team at QB, as it could be the answer to whether the Broncos can contend what should be a good division.
No Pick: New England Patriots
Thanks to the absolute travesty of a decision by the worst commissioner in pro sports, Roger Goodell, the Patriots have no first round pick this year. Still, we'd like to highlight the one team without a first round pick and give some insight into what needs they have to fill in the draft.
With that being said, HOLY COW is the rest of the NFL lucky that the Patriots were punished with the loss of a pick. This team looks stacked for next season. Nearly every issue they had going into the offseason, they addressed. Need an upgrade at guard? Check, with the trade for Jonathan Cooper. Need of a couple of defensive tackles to replace the lost Akiem Hicks and Dominique Easley? Check, with Terrance Knighton and Markus Kuhn. Need of a defensive end to replace the traded Chandler Jones? Check, with Chris Long. Need of another tight end to compliment and protect against the loss of Gronk again? Check, with Martellus Bennett. I mean, crazy impressive offseason. Still there are a few issues remaining. The offensive line could use an upgrade over the mediocre Bryan Stork at center, the middle linebacker could be upgraded over Jonathan Freeny, the cornerbacks could use some depth behind the starters, and the offensive skill players could use a gamebreaker, as running back looks inconsistent and injury-prone and the wide receivers are injury-prone as well. Still, that's a lot of need for depth or upgrades over mediocrity, not gaping holes. This exercise confirms that the Patriots are another of the Super Bowl contenders going into next season, even before additions are added through the draft.
That's all folks! Mock draft season is over. The draft begins Thursday, so watch and enjoy. I know I will be watching, hoping and praying that Jalen Ramsey is my next favorite Cowboy! Here's to your team getting that player you want and remember, listen to our podcast next week when we discuss our mock draft, the actual NFL draft and any surprises.