In 2013, my friend and podcast partner, Kevin Gregus, shared an article with me that he found on SI.com where they listed and ranked the 68 schools in that year's NCAA tournament based on their "coolest" alum (
Find the article here
). A great idea, but terribly executed in my opinion. First, there was no criteria explained for the "coolness" factor. Second, and more annoying to me, was the fact that it credits schools with alumni who attended for one semester. So I set out to provide a better list, with more concrete parameters. Due to the reactions I received from those who read the original post, I decided that this should become an annual post.
Beginning in 2014, I decided to make a tweak to my process by bringing in voters, so that it doesn't seem repetitive to me and the blog post doesn't seem repetitive to my readers. This year's voters are Kevin Gregus, a 27 year old engineer from Maryland by way of Chicago, Illinois; Don Grein, a 40 year old attorney and former biochemist from Dayton, Ohio by way of Cincinnati; and Steven Jez, a 25 year old marine JAG from Camp Lejeune, NC by way of Dayton, Ohio. We will rank the alums for each school, combining our rankings to determine the coolest alum for a school. Then we will rank the coolest alums, combining our rankings to determine the rankings for which school has the coolest alum. With all that being said, remember, this list is subjective. I'm a certain kind of nerd, Kevin is another kind of nerd, the others nerds as well. Our idea of cool will differ from yours and from each others. Anyways, no more disclaimers, let's get down to business!
Rules:
Coolness factor: To be cool, I must see your name and have an emotional reaction. In more vulgar, animalistic terms, I need a stirring in my loins. So, while Gerald Ford is influential and a great American, there is little there that gets me excited. I also decided early on that this list would not enjoy the likes of athletes unless there was no other choice. So Jim Brown, Jackie Robinson, Michael Jordan and others of the like will not be gracing this blog post.
Alumnus factor: You CANNOT have dropped out to pursue a career. My reasoning is simple. If somebody came up to me and told me they went to Michigan for one semester, I would not consider them a fellow Wolverine. I'd consider them someone who knows how great Ann Arbor and Michigan is, but they do not share that common bond of putting in the work to get the degree I received. This eliminates the Madonna (Michigan), Anthony Kiedis (UCLA) and Charles Lindbergh (Wisconsin) types from consideration, but it's necessary. A graduate degree, on the other hand, will count. You spent a decent amount of time and left with a degree. You can claim that school and they can claim you. Any other close calls, I will decide upon and explain if necessary.
That's the two rules that will shape this list. Without further ado, it's list time!
68. Robert Morris - Kevin Colbert
The bottom two ranked teams in the basketball tournament end up as the bottom two ranked in our poll. Robert Morris was so lacking in options, I had to choose the current General Manager of the Pittsburgh Steelers. I mean, he created a Super Bowl winning team, so that's cool, but not surprising that he was last on the list
My head feels like a bunch
of monkeys fighting over
a bucket of marbles
67. North Florida - Sara Walsh
Every year, we find random ESPN personalities at the bottom of the list. This year's edition features Sara Walsh, not one of my faves from the Worldwide Leader
66. Georgia State - Amber Nash
I tried watching Archer. It wasn't my schtick. That being said, Pam was one of the more enjoyable characters. Amber Nash is the voice of said character and thus, makes the list as Georgia State's representative
65. Davidson - Patricia Cornwell
I don't believe I have ever read a Patricia Cornwell novel. If I have, it wasn't very memorable. Being a bibliophile, though, I have seen her name over a million times in my lifetime while browsing in a book store. That sort of production over time is impressive and such longevity in the writing business is pretty cool.
64. Valparaiso - JoBe Cerny
Our second voice actor in the bottom five, JoBe is famous for using his voice to help put the biscuit in the basket. Just give
this link
a poke and you'll understand.
63. Wichita State - Carney Brothers
The founders of Pizza Hut drop in rankings for the third straight year, as I am the only one who recognizes the greatness of the Hut. I wrote this right before lunch and now have a craving for a P'zone and some breadsticks...
62. Louisiana State - Better Than Ezra
I know one song from this band from Baton Rouge, but I really like it. Beyond that, I know very little about them, so instead, I'll just listen to Desperately Wanting once more
61. Michigan State - Chris Hansen
To Catch A Predator, a crazy enjoyable feature from Dateline NBC, is the creation of this Spartan alum. Unfortunately, a Dateline NBC creation can only get you so far up the list of coolest alums and this is where Hansen's rise peters out
60. Wofford - Jerry Richardson
The first two years saw Wendi Nix named the representative of Wofford, but this year, Jerry Richardson, owner of the Carolina Panthers, replaced her and Wofford moved up the list as a result. Not far, but apparently NFL owner is more cool than random ESPN personality
59. Louisville - Delfeayo Marsalis
I like jazz, but I honestly know nothing about Delfeayo Marsalis. The name Marsalis is probably the only reason he is ahead of nine others, as we all know the cool factor that is associated with that name
58. Butler - Lance McAlister
Our first ever write-in winner, Lance McAlister represents Butler. In what, I have no clue, as I had never heard of him before this. Here's Don's feelings on Lance:
I've listened to Lance's take on sports since 1998, when he was a talk show host on 1160 BOB AM radio in Cincinnati. We share the same affinity for baseball greats Pete Rose and Sean Casey; hell, he even named his son Casey. He's also a huge stats nerd so Lance, how's this stat? First ever, as in first person selected to the final 68 of the coolest alumnus rankings as a write-in vote. I wonder if it would work for President?
57. Texas Southern - Barbara Jordan
She was the first southern black woman elected to Congress and represented Texas well in the political realm for years. A leader by example for civil rights, Barbara Jordan is a very honorable and noteworthy woman. Unfortunately, being a politician from the 70s doesn't garner many cool points, so she ends up in the bottom part of the list.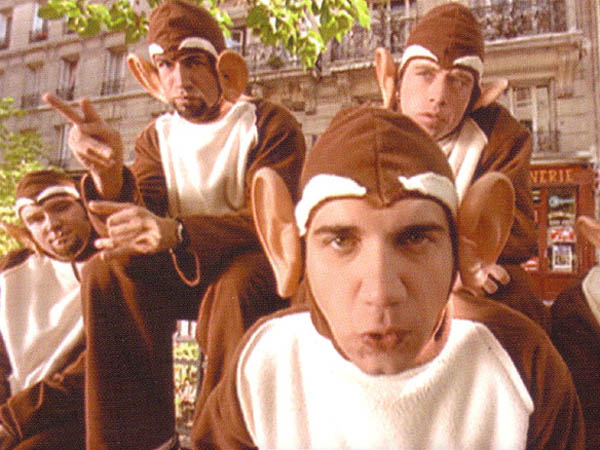 You and me, Lipman are ranked way too low
So let's dress up like monkeys and put on a good show
56. Albany - Lipman Brothers
The founders of Republic Records, their first two signings to the label were The Bloodhound Gang and Chumbawamba. Yes, they are not world-changers in music, but those one hit wonders helped build the brand. Since then, the record label has thrived, signing the likes of 3 Doors Down, Godsmack, Jack Johnson, Amy Winehouse, Colbie Caillet, and Florence + the Machine. These brothers know their music and our music libraries are better as a result.
55. Stephen F. Austin - Joseph W. Kennedy
The co-discoverer of plutonium and a member of the Manhattan Project. Once again, Stephen F. Austin moves up the list, making strides where it wasn't expected. This is why they are
Stephen F Austin
,
the school of stone cold upsets.
54. Villanova - Jim Croce
It's frustrating how low Croce is on this list. Here is an artist who looked to have a bright future when at his peak, but fate intervenedm ending his life in a plane crash leaving a concert. Croce put up some impressive music in his short time on Earth. His song, I Got A Name, is one of my faves. On the flip side, his star has definitely faded with time and his premature death really limited what could have been a much more prolific discography. As a result, he's cool, but much lower on this list than he probably should be.
And we're live in South Bend, Indiana...
and you're soon to be dead
53. Kentucky - Ashley Judd
She's beautiful, married to one of the best IndyCar drivers of all-time, and her roles in Kiss The Girls and Double Jeopardy are certainly memorable for me. Is she very cool? No, but she's cool enough to avoid the bottom of this list. Plus she protects us from being subjected to a picture of Tom Ha...AHHHHH! There he is!
52. St. John's - Howie Schwab
I love sports and I love trivia, so Howie Schwab is my hero. That being said, Stump the Schwab had a short existence and Schwab's star burned dim enough while on the air, so it's not surprising how low he is on this list. Still, could you stump him?
51. Northeastern - George Behrakis
How did a multi-millionaire pharmacist get this high on the list for coolest alums? Well, when you are the face of the team that created Tylenol, a drug everybody in America knows. I mean, who hasn't taken Tylenol at some point in their life? That's pretty cool
50. Belmont - Florida Georgia Line
My favorite current country act, the boys of Florida Georgia Line present Belmont and yet, don't fly to high up the list due in large part to the hatred of country music by one of our voters. Still, doesn't mean I can't listen to these great songs when I roll my windows down and cruise.
49. Utah - Nolan Bushnell
Mr. Bushnell made it pretty high on my list, but received a complete lack of love from the others, resulting in a very disappointing finish on this list. I mean, c'mon! This is the creator of both Chuck E. Cheese and Atari! My childhood revolved around convincing my parents to take me to Chuck E. Cheese or to let me play video games. My sole missions in life would have been completely different if not for this man. That's really freaking cool to me
48. New Mexico State - Alan Hale
A change in representative for the Aggies this year resulted in a very unexpected and very large jump up the rankings. Apparently the co-discoverer of the Great Comet of 1997 (the Hale-Bopp comet) is much cooler than previous representative Harold Reitsema. Who knew?
47. Alabama-Birmingham - Lawrence J DeLucas
I'm not a space nerd by any means. I love the sci-fi genre, but modern space science just bores me. That being said, for many people, astronauts are still very cool (as evidenced by the multiple astronauts who made this list). Mr. DeLucas is the star alum for UAB, as a member of the crew of the Space Shuttle Columbia who flew into space in 1992 to conduct experiments "relating to materials processing and fluid physics". I mean, if that doesn't get your rockets firing, I don't know what will.
You chose ME to make your top 45?
Well, I'll be a bison's uncle
46. North Carolina State - John Tesh
My battle every year is just to make sure Tesh makes this list, so I can continue to provide my readers with the link to the greatest sports theme song of all-time. I won that battle again this year. You're welcome, my readers!
45. North Dakota State - Bob Backlund
Bob Backlund is a former WWE wrestler, known for being a quite goofy-looking Midwestern guy. He's a wrestler, he was fun, that's cool. Not much else I can add to a wrestler that I never got to see perform.
44. Gonzaga - Bing Crosby
Every year, Gonzaga makes the tourney and every year, Bing follows into this list. I feel bad, as I know the older generation probably thinks he's the bee's knees. For us though, his gradual ascent into the top 25 came crashing back to Earth this year, dropping nearly 20 spots.
43. Oklahoma State - Gary Busey
The past two years, Oklahoma State was represented by Garth Brooks, and I had no complaints. This year, Garth was replaced and I still have no complaints. I mean, you can't play movies on a seashell. You can't even plug them in.
42. Providence - John O'Hurley
So, I am supremely biased in the entertainment industry towards people associated with two actors: Jerry Seinfeld and Adam Sandler. If you were on Seinfeld, my favorite show of all-time, then I probably have most of your lines memorized. That's most definitely the case here. You most likely know him as John O'Hurley, but he'll always be J. Peterman to me. Bon chance, readers! You there! On the motorbike. Sell me one of your melons!
41. Virginia Commonwealth - GWAR
Here we have a band that is
renowned
for putting on a great live show and for being one very weird band. Such
renown
and intrigue results in a few more coolness points in my ledger and a decent ranking on this list. They moved up four spots this year, just missing the top 40.
40. Baylor - Thomas Harris
A man once tried to interview me.
I ate his liver with some fava beans
and a nice Chianti
How does a man who is extremely protective of his privacy and hasn't given an interview in nearly 40 years make it this high in our cool rankings? Well, you create one of the greatest characters of all-time, that's how. Thomas Harris is the creator of the Hannibal Lecter series, the inspiration for one of my top three films of all-time, The Silence of the Lambs. If you know these books/films, then you understand why someone you probably have never heard of is held in such high esteem by our vaunted board of coolness judges.
39. Buffalo - Harvey Weinstein
Buffalo made their first appearance ever in the NCAA tournament, so we get a new alumni base to choose from. Harvey Weinstein dominated the voting for Buffalo and I thought for sure we'd see a top 20 showing for this guy. Instead the founder of Miramax and The Weinstein Company sits in the bottom half of the list. I mean, this guy's studios have brought me some of my favorite films of all-time and Time named him one of the Top 100 Most Influential People in the World. This was one ranking that hurt my soul just a bit.
38. Hampton - Booker T. Washington
This man was born a slave and by the turn of the century, was one of the most powerful men in America. He led the charge to end the disenfranchisement of the black community, all while preaching the benefits of education and entrepreneurship. A great leader and representative for Hampton University.
37. Xavier - Phil Bucklew
I mean, his nickname is The Father of Naval Special Warfare. Phil was awarded multiple military honors during his years of service, including two Navy Crosses, a Silver Star, a Bronze Star and the Croix de Guerre. When JFK created the Navy Seals, Bucklew was named as the first commander of Naval Special Warfare Group One and his reports laid the foundation for one of the most feared military units the world knows today.
Phil moved up a few spots this year, but still just missed out cracking the top half.
36. Indiana - Dick Enberg
Oh my! Just missing the top half is Indiana's representative alumnus. Dick Enberg calls sporting events. I used to call sporting events. As a result, I find sports announcers to be pretty damn cool. Still, it's not surprising to me to find him this low on the list.
35. Ole Miss - William Faulkner
The face of Southern American literature and a Nobel Prize laureate in literature, William Faulkner is my first thought when I think of the University of Mississippi. My second thought is how I much I disliked reading The Sound and The Fury in high school. Still, he's one of the great American writers and that's cool enough to get him just outside the top half of our rankings this year.
I swear, Doug! I don't know
where she is and I promise
she isn't on this list!
34. Coastal Carolina - Michael Kelly
Mr. Kelly is quickly becoming one of my favorite character actors in the business. Every movie or TV show he is in, I know I can expect a visceral reaction to his character. The Dawn of the Dead was the dawn of his existence in the minds of the audience, with many great roles since, including roles as Doug Stamper in House of Cards, Agent Fuller in Now You See Me, and my personal favorite, as Agent Mark Snow in the pretty great Person of Interest. With his current career arc, I would not be surprised to see Michael following the path of JK Simmons and appearing in a seminal role in the near future.
33. UC-Irvine - Jon Lovitz
The top half of the list starts with three actors, the first a character actor and the next two comedic actors. The lower ranked of the two, Jon Lovitz is an ugly man with a memorable voice who has made his living turning that into comedy gold. While I'm not very high on Lovitz, he has played two very memorable characters for me: first, his turn as a high-as-a-kite restaurant owner on Friends still slays me to this day ("Oh, oh! Bears overboard! They're drowning!"). Second, his portrayal of Jimmie Moore the rival wedding singer in Adam Sandler's The Wedding Singer is great. I mean, I quote him all the time. So, thank you Jon Lovitz, we know that ain't no sock in your crotch.
32. West Virginia - Don Knotts
Two of the top 32 members of this list are most famous from one TV show. The Andy Griffith Show introduced us to Barney Fife, the lovable, bumbling deputy in the town of Mayberry. Don Knott's character was both charming and hilarious and for that alone, was able to crack the top half of this list. Add in his turn on the show Three's Company and it's no surprise that he is ranked so high on the coolness scale.
31. Iowa State - George Washington Carver
There's a point while doing these lists where we get stuck choosing between classical definition of cool and our own version of cool. In this scenario, our version wins out and we rank highly a man who was one of the great inventors and scientists in American history. Add in that he was believed to have been born into slavery, broke the color barrier at Iowa State as both a student and professor, and had 150 recipes involving the peanut and you get one badass dude.
30. Georgia - Wayne Knight
Here's a character actor that has a special place in my heart, for his role as Jerry's nemesis Newman on the hit sitcom, Seinfeld. Just writing this blurb has me quoting so many hiliarious scenes to myself, though none will beat this piece of comedic gold in my mind. With that being said, I can't believe he's this high on the list. You know what? I think I'll just move him down like...what the?! Dammit! I hate this hacker crap!
29. Wisconsin - Steve Miller
I love the Steve Miller Band. Steve Miller's music puts me in a different place altogether. I listen to it and transport to a world of serenity and Lisa Frank-esque color schemes. His music helped him run like a river to the setting sun, run like a river 'til he's number one.
Hopefully this picture spawns
more favor for Todd in the future
28. Eastern Washington - Todd McFarlane
Here we have the first artist of the super-villain Venom from Spider-man and the creator of the supremely underrated Spawn. I really enjoyed Spawn growing up and Venom was always one of my favorite characters in the Marvel universe. It goes to show that Mr. McFarlane and I share similar tastes. It's pretty cool to see someone who made a living in comic books become an owner of a major sports franchise. He no longer owns the Oilers, but when he did, they were competing for Stanley Cups. He's quite the cool guy for a simple comic book artist.
27. Boise State - Tera Patrick
Two years ago, I was the only voter and Tera Patrick ended up near the bottom of my rankings. This year, with two additional voters, the former wife of Biohazard bassist Evan Seinfeld and Penthouse Pet rocketed up the list, somehow cracking the top 30. I have no explanation for this one.
26. Arkansas - Pat Summerall
I love Pat Summerall. His calls with John Madden were my favorite growing up, and due to his age and living in Dallas, he was given a ton of Cowboys games later in his career. I was treated to so many Summerall calls that I always viewed him as someone to pattern myself after when I tried my hand at broadcasting while attending the University of Michigan. It's sad that I don't get to hear his calls anymore, but Pat will always live on in my heart, telling his story to those who live on in my memories with him.
25. Wyoming - Samuel C. Phillips
The best part about this list is when we get representative like General Samuel C. Phillips. Though surrounded by household names, General Phillips has a resume that is so cool, it is no wonder it made the top 25. How's this for a cool life? General Phillips (and not in the basic nomenclature, but in the legitimate four-star distinction) followed graduation at Wyoming with service as a pilot in WWII. During his time there, he earned the Distinguished Flying Cross, the Air Medal, and the Croix de Guerre. Following that, he earned a Master's from UM (HAIL!) and continued his service in the Air Force on the development side. He worked on nuclear weapons, the B-52, and various missle projects. In 1963, NASA brought him in to command the manned lunar landing Apollo program. Once a man was put on the moon, he stepped down and returned to the Air Force. After three years there, he was named director of the NSA in 1972 in his final major position before retiring in 1975. This guy was the reason we landed on the moon, as he guided that program through tough times (particularly after the Apollo 1 accident). That's just the tip of it all. What a great life for a really cool guy! My fullest respect goes out to General Phillips for all he did for this country.
24. Kansas - Rob Riggle
Now starts the run on schools who changed their representives from last year to this year. The first one makes no sense to me, probably because I don't find him to be terribly hilarious. Still, to make the top 25 coolest alums means he has to be pretty cool in the eyes of the others. He's doing well enough to continue getting work with his angry humor.
23. BYU - Aaron Eckhart
Orson Scott Card was the representative last year, due in large part to his being at the forefront of our consciousness with the release of the Ender's Game film adaptation. A decent but disappointing movie leads to his being replaced a year later with Aaron Eckhart, Christopher Nolan's Two-Face. Eckhart has been in plenty of great films and has a strong showing yet again for BYU, sitting in 23rd this year.
Only this smile could displace
those other alumni to rep UVa
22. Virginia - Benjamin McKenzie
Our final change this year is the one of the big upsets of this tournament and it has everything to do with Batman. I've been a big fan of Benjamin McKenzie since his days on The O.C., but even I couldn't foresee how good he would be as Detective James Gordon on the television show, Gotham. He's been so good that he beat out the founders of Reddit, Tina Fey, and Tom Shadyac to be named Virginia's coolest alum this year, a change that also resulted in a nine spot bump up for UVa in the rankings. Never change, Ryan Atwood!
21. Notre Dame - Regis Philbin
I'm an unabashed trivia nerd and that love really took off in August of 1999. My family had just moved to San Antonio in July, so that summer had been one of upheaval and change for me. It was nice to start school and meet new people, but it was also tough to do so in seventh grade. Everybody had friends from when they were five, so I was working an uphill battle. It was nice to know that every night when I got home, I'd have an hour of trivia to watch, just something for me and my mind. Regis Philbin was my svengali during that particular climb in my life and for that, I'll always have a special place in my heart for him...even if he's a Domer.
20. North Carolina - Andy Griffith
This ranking comes from a place deep in my heart and childhood memories. My father loves
The Andy Griffith Show
and some of my fondest memories growing up was of watching the show with him (just seeing his name makes
this
pop into my mind). Add in Matlock and he has a lasting impression on a lot of minds and hearts, as evidenced by his top 20 ranking.
19. Manhattan - Rudy Giuliani
Mayor Giuliani was the mayor of New York City for the most horrendous attack on United States soil since Pearl Harbor. In the days following 9/11, Giuliani's handling of the entire situation in the Big Apple fortified his standing as one of the great leaders our country has seen. Will he be a president or other national leader? Probably not, but that doesn't matter. Because for a while, all Americans were New Yorkers, looking to Giuliani for leadership and Mayor Rudolph Giuliani was there, to help guide us back into the light from out of the darkness we had plunged.
18. Duke - Ken Jeong
Ken Jeong exploded onto the scene like a naked Asian jumping out of a trunk with his role in
The Hangover
. Since then, he's been a major member of the most underrated show on television and now Yahoo! (
Community
), in various commercials, and had another
Hangover
. Oh, and he was a doctor before he decided to follow his dream to do what he loves, a
ct.
17. Dayton - Dan Patrick
I know my fair share of Dayton alums and pretty much all of them are at the top of my coolest list. As a result, it was hard to make a list to include them all, so instead, I removed all that I personally know. We ended up with a much shorter list to vote on and a pretty clear-cut winner from that group. Dan Patrick was one of the anchors from the golden era of Sportscenter and parlayed that success into a top-notch radio show and
movie cameos
. As usual, it pays to have connections with Sandler when I'm voting for your coolness!
16. Southern Methodist - Lamar Hunt
If you like sports in the United States, then you have Lamar Hunt to thank for most of that. Prior to doing this, I knew he was a founding member of the AFL, the football league that pushed the NFL from the stone age into the modern era and led to it becoming the most beloved sports league in America. His team, the Kansas City Chiefs, are to this day, one of the most beloved teams in their city, with a rabid fan base that makes playing there nearly impossible. What I forgot prior to this was that he's also one of the major reasons that soccer is alive and thriving in the States. He was a founding member of NASL, a predecessor league to the MLS, as well as a founding member of the MLS. He originally owned three teams (Kansas City Wizards, Columbus Crew, and Dallas Burn) and at the time of his death, still owned the Crew and FC Dallas. Just to put the cherry on top of this man's influence on the American sports scene is this story: In 1966, Lamar Hunt, as representative of the AFL, wrote a letter to NFL commissioner Pete Rozelle after agreeing to have the two leagues compete in a championship game after each league's season. In that letter, Lamar Hunt jokingly stated that they should call it the Super Bowl, and the rest, as they say, is history.
15. Northern Iowa - Robert John Hibbs
Here we have our youngest member of the list, at 22 years old. Second Lieutenant Robert John Hibbs died in Don Dien Lo Ke, Vietnam on March 5, 1966. He earned his commission from the Army ROTC post at Northern Iowa University and had served in Vietnam for two years prior to his death. He earned the Army Medal of Honor for his actions on that fateful day. On that day, his patrol spotted a Viet Cong force approaching the 2nd Battalion's position. Hibbs led his small group in an attack on the enemy force and, following the attack, with another soldier, volunteered to rescue a wounded comrade despite already being wounded in the leg. After reaching the wounded man, Hibbs stayed behind to provide covering fire and was mortally wounded while attacking an enemy machine gun emplacement. Hibbs was posthumously honored by NIU with the renaming of a section of campus after him. For this young man's bravery and sacrifice, I'm eternally grateful and happy to see it recognized on a list like this.
14. Arizona - Jerry Bruckheimer
This year's list is dominated by producers, with two teams making their inaugural appearances represented by producers and Mr. Bruckheimer returning the favor and dethroning Craig T. Nelson, a year after he lost his representative spot on this list. Bruckheimer jumped back onto the list this year and with a vengeance, jumping all the way into the top 15. It's to be expected from the guy who brought us one of my favorite shows of all-time (The Amazing Race) as well as Beverly Hills Cop, Top Gun, The Rock, Con Air, Bad Boys, and Black Hawk Down just to name a few. Bruckheimer knows what people want and cranks them out time and again. I know I'm a huge fan of most that he's produced and that's pretty damn cool.
13. Maryland - Kevin Plank
Prior to this year, I would have ranked the founder of Under Armour much lower, as I never owned any of their products and always just viewed them as way overpriced. Then I got a couple of UA shirts for Christmas and now I'm hooked. It's amazing how great the shirts work and how comfortable they make me. This all came about because the number 13 guy on our list was a very sweaty football player and hated it. I feel ya, Kevin! I feel ya! Now that we have shirts to help with that, I feel like WE MUST PROTECT THIS HOUSE!
12. Iowa - Gene Wilder
I had Gene Wilder in my top five, so the others don't think he's as cool as I do. I'll try to keep this from sounding too over the top. It's going to be tough though, as Gene Wilder starred in not one, but two of my top ten movies of all-time. First, his turn as
Willy Wonka
in
Willy Wonka and the Chocolate Factory
is one of the most memorable characters in cinema history and one of my personal favorites. Second, his portrayal of Dr Frederick von Frankenstein...err,
Frankensteen
in
Young Frankenstein
has me rolling to this day. Those two alone would get him high on most lists, but add in
Blazing Saddles
and
The Producers
and you have a filmography fit for a king. That's one cool collection of movies and the reason Gene sits just outside our top ten.
11. Georgetown - Antonin Scalia
During my time in law school, I read A LOT of legal decisions, from plenty of different courts, but many from the United States Supreme Court. I found early on that I found Scalia's to be some of the most entertaining. A staunch conservative (in the purest of terms), Scalia has spent nearly 30 years on the Court, pushing his originalist and textualist interpretations up against all of his fellow justices at some point or another. You may love him and you may hate him, but you have to admit the man can write an opinion. In trying to capture his opinions, this blurb from his Wikipedia page captured it best for me: "He files separate opinions in large numbers of cases, and, in his minority opinions, often castigates the Court's majority in scathing language". Oh yeah, that's definitely Scalia. To be able to serve the law in its highest form and to do so as eloquently as he does, that's really cool.
10. San Diego State - Carl Weathers
He's this high on this list because he's played three characters of note. He played Apollo Creed in the Rocky movies, a character of great
renown
in the sports movie genre. He played Dillon in the raucous alien-fighting romp through the jungle, Predator. And most importantly, he taught us that it's all in the hips as Chubbs on both Happy Gilmore and Little Nicky. With my love for Sandler, Don's love for terrible acting in a boxing movie, and Steven's love for predators, Weathers made yet another huge leap for the second year running, moving all the way into the top ten. Way to go, Chubbs!
Hide yo' daughters, hide yo' wives
9. Cincinnati - Steven Jez
A law school graduate at the age of 23, this Marine JAG is well on his way to the dream life. A graduate of both the University of Cincinnati and the University of Dayton School of Law, this young lawyer also played rugby in college, was a soccer star in high school and is the real life embodiment of a magical power we all learned about from Seinfeld: the kavorka, "the lure of the animal". If you want a glimpse into the power this carries and the burden it places on the unfortunate souls who suffer from it, watch this clip. It's just another reason why Mr. Jez is ranked so high on our list this year. Stay strong, buddy!
8. Oregon - Phil Knight
This guy founded Nike, so I feel like I should write a huge paragraph on him. Really, is there much more to say though? He has a ton of money, gives a ton of it his alma mater (resulting in a thousand different uniforms every year and some sweet facilities). His company makes some pretty sweet shoes too. The coolest thing is his ability to provide so much for his alma mater which he loves.
7. Ohio State - George Steinbrenner
While many people hate the Yankees and their former owner with a passion that burns with the fury of a thousand suns, we all must admit how great and influential an owner he was in baseball as evidenced by his constant place high among our rankings. He took a fallen empire and returned it to its previous glory, even if it became an evil empire. His life is the dream of all sports fans, and to have lived the dream makes Mr. Steinbrenner very cool.
6. Lafayette - Joel Silver
What a debut for the Lafayette Leopards and their representative, Joel Silver! Debuting just outside the top five is one of the great producers in American cinema today, with a credit list that I could binge watch for a week on end. I'll give you just a sample, with the list of movies he produced in the 1980s: 48 Hrs, Brewster's Millions, Weird Science, Commando, Lethal Weapon, Predator, Die Hard and Road House. I mean, I'll gladly sit down and watch all of those films in a row RIGHT NOW. That list doesn't even include Demolition Man, The Matrix, Swordfish, Sherlock Holmes, or Veronica Mars (just to name a few more). So, you think this guy is cool, right? Now add in the fact that he was the inventor of Ultimate Frisbee and now you understand the sparkling debut for this precious member of the American cinema community.
5. Texas - Matthew McConaughey
A top five spot is alright, alright, alright with me
The McConnaisance even has been realized in our annual rankings, jumping from 18th last year to 5th this year. This is an actor who started with small but memorable roles (ex: Wooderson in
Dazed and Confused
), built from those into starring roles in really good movies (ex:
A Time To Kill
and
Contact
), cashed in for a few years with action flicks (
Sahara, Fool's Gold)
and romcoms (
The Wedding Planner, How To Lose A Guy In Ten Days
) while marrying a beautiful woman and fathering children, then returned to legitimate roles which have been grabbing him acclaim ever since (
Killer Joe, Magic Mike, Dallas Buyers Club, True Detective)
. All of this culminated in his winning of the Academy Award for Best Actor in last year's Oscars. The McConnaisance is in full swing and we are the beneficiaries.
The Final Four
With Michigan and Colorado both missing the tournament for the first time since the inaugural list, we will have our first change in the final four in three years. Still the other two stalwarts of the past two Final Fours are here again, so a few changes to how last year's top of the list shook out but a familiar feel as well.
4. Oklahoma - Ed Harris
Ed Harris is the man and finally earned his rightful place in the Final Four. I have never seen a movie where I didn't like Ed Harris' performance. Furthermore, he has two particular roles that will forever be etched in my mind thanks to Ed Harris. In
Apollo 13
, he starred as Gene Kranz, NASA flight director, and was nominated for an Oscar for his performance. In
The Rock
, he played the most sympathetic and kickass villian as General Hummel, a Marine general fighting for his soldiers who were disregarded by the US government. What more can you ask for from an actor than that he leaves a memory of his performance etched in your mind? Ed Harris does that nearly every time for me.
3. UCLA - John Williams
An amazing list full of dropouts, but one that also resulted in four badass graduates (actually 3 graduates and one almost graduate who left because he was drafted into the military. Military draft = exemption from rule two!). Now John didn't graduate from UCLA, but being drafted into the Air Force and serving your country will never get frowned upon here, so John gets the exemption. Just think of Jaws, Star Wars, Harry Potter, Indiana Jones, Close Encounters of the Third Kind and you will immediately hear the music. That music is John's and that's pretty damn cool.
2. Purdue - Neal Armstrong
The first man to ever walk on the surface of the moon had a cake walk into the top two and nearly dethroned the great Theodore Roosevelt. Still, for the first showing in annual rankings, it's quite a performance. I mean, it was probably just a small step for Mr. Armstrong, but a giant leap for Purdue alumni every year.
You thought you could keep me out of the top spot two years running? Laughable!
1. Harvard - Teddy Roosevelt
VICTORY! Teddy spoke softly after last year's defeat, but carried a big stick back into his rightful spot atop this list. His stories must be told so we always remember that Teddy was a true badass and the coolest. Teddy Roosevelt had the following pets while in the White House: a badger named Josiah, a bear named Jonathan Edwards, and a hyena. Teddy Roosevelt was once shot while giving a campaign speech by a would-be assassin. He finished the speech with a bleeding, undressed wound. Teddy Roosevelt was a black belt in jiu-jitsu and a champion boxer. Teddy Roosevelt is the epitome of cool. Just ask his guinea pigs
Admiral Dewey, Bishop Doane, Dr. Johnson, Father O'Grady, and Fighting Bob Evans. Teddy Roosevelt was so cool that a joke on How I Met Your Mother was about Ted annoying everybody by telling them constantly how cool Teddy Roosevelt was. Welcome back to your rightful place sir!